I thought I'd just put on the photos of my Artist Trading Cards to date. Marianne from the Netherlands, has sent me 2 of hers and they are just gorgeous. They are painted and feature the Mandalas that she blogs about. Go and have a look. http://mandarianne.blogspot.com/
Here is an explanation of
ATCs
from
Wikipedia
:
Artist Trading Cards
(or
ATCs
) are miniature works of art about the same size as
baseball cards
and thin enough to fit inside standard card-collector pockets, sleeves or sheets.
The
ATC
movement developed out of the
mail art
movement and has its origin in Switzerland.
The cards are usually traded or exchanged and not sold.
I have already exchanged quite of few of mine, so these are the ones I have left. This is a relatively new venture for me, so I hope you enjoy them.
Cat in a Cage. Material, buttons, orange twine found on a beach, stitching
Gold Butterfly
Various felt tip pens and marker pens
Labels
Material, stitching, old clothes labels, beads, peg
Lady behind a net curtain
Magazine image, ribbon, builders' scree, bits of cotton, felt pens.
Letters
collage, magazine pieces and words, glitter glue, beads, a peg.
New Shoes
Altered magazine image, Beads, paint.
Roxanne
Altered Magazine image, ribbons, felt tip
Shoes
Wool, altered magazine and yellow pages images, cut out letters, felt tips.
Swirls and Twirls
Various felt tipped pens, gel pens and gold pen.
Below are the two lovely
ATCs
I received from Marianne. They are both Mandalas.
Below is an explanation about Mandalas
•
An
integrated
structure
organized
around
a unifying
center
Longchenpa
•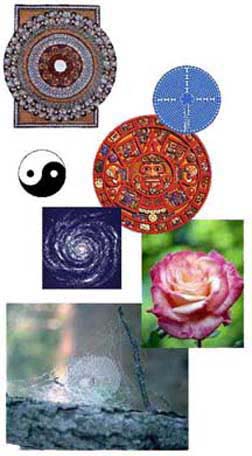 The pattern of creation
The word "mandala" is from the classical Indian language of Sanskrit. Loosely translated to mean "circle," a mandala is far more than a simple shape. It represents wholeness, and can be seen as a model for the organizational structure of life itself--a cosmic diagram that reminds us of our relation to the infinite, the world that extends both beyond and within our bodies and minds.
Describing both material and non-material realities, the mandala appears in all aspects of life: the celestial circles we call earth, sun, and moon, as well as conceptual circles of friends, family, and community.
"The integrated view of the world represented by the mandala, while long embraced by some Eastern religions, has now begun to emerge in Western religious and secular cultures. Awareness of the mandala may have the potential of changing how we see ourselves, our planet, and perhaps even our own life purpose."
(From Mandala: Journey to the Center, by Bailey Cunningham)
I hope you have enjoyed this little journey. Today I took loads of photos including some superb ones of
BlackJack
and some garden ones of course. So watch out for photo heaven for tomorrow.
I have been working on Jim's vegetable plot today, after my 'David Bailey' session.